THRASHER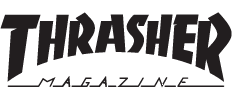 SKATE AND DESTROY
Thrasher
is a monthly
skateboarding magazine
, enstablished by Kevin Thatcher, Eric Swenson, and Fausto Vitello in
San Francisco
, California. Founded in
1981,
Thrasher is definitely the most iconic skateboarding magazine ever, documenting and both shaping the global skateboarding culture since day one. More than any other media, Thrasher has a strong identity and aesthetics, so strong it could be recognized as a
concept brand
. Since the 80's, Thrasher merchandising, like
t-shirts
and
sweatshirts
, has been worn by the best
skateboarders
in the world and quickly became a staple
Read more…
Read more
also among the street fashion network.For more than 30 years Thrasher's Classic, Flame, Skategoat and "Skate and Destroy" logos have been some of the most recognizable icons in the underground scene, and they are still relevant today more then ever also thanks several on-going collaborations with venerated companies and artist like Supreme and Mark Gonzales.
Can't find what you're looking for?
Try a search in our catalog
Suggested by our customers: