OBEY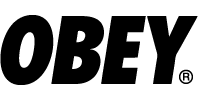 WORLDWIDE PROPAGANDA
Obey Clothing
stems from art, design and the ideals of its creator Shepard Fairey. Started out as a joke with a sticker made in 1989, as Fairey was an art student, the Obey 'project' has evolved with time becoming one of the most prominent street art phenomena, as well as one of the most innovative clothing brands. Inspired by graphics from the skate, punk and hip-hop world, Obey Clothing has carved out a relevant niche for itself on the street-wear scene imposing its own style: provocative and full of irony,
original but always recognizable
. The Obey logo is indeed a real classic in contemporary clothing, as well as its style of elaborate graphics on short-sleeved t-shirts or the popular
crewneck sweatshirts with Obey logo
. In addition to these new, street-wear classics, Graffitishop also offers
an extensive collection of shirts
and jackets with well-finished designs and refined materials, as well as a wide range of caps by Obey and accessories with prints and
always fresh and fine fabrics
to wear the Obey style to the full spectrum. Able to evolve and grow with the taste of its supporters, Obey is now the must-have brand for who wants to be two steps ahead.
Read more
Can't find what you're looking for?
Try a search in our catalog
Suggested by our customers: