LIFE'S A BEACH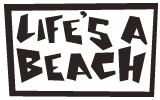 A COLOURFUL THROWBACK.
Born in California of a brilliant idea of three young riders,
Life's a Beach
expresses the energy and the wild attitude of extreme sports' enthusiasts. Producing bold prints and explosive colorways, this early 80's label sponsors top athletes in each field, including the star skater Mark Gonzales and the top surfer Sunny Garcia: spreading L.A.B. mood has been quite simple due to its extreme effectiveness and the incredible amount of fans appreciating the typical smooth vibes of this young brand. Just as its apparel was unique for it's time, so was its approach to the street culture: the main goal has always been dealing with
streetwear clothing
in a different way, going beyond common limits and setting brand-new aesthetic standards with an eye on
Skate
,
Surf
and
BMX
.
Read more…
Read more
Life's a beach T-shirts
and sweatshirts are a must-have accessory for every boy scattered all over the world:
Life's a Beach logo
is much more than a simple branding, it's a symbol for all those guys who identify themselves in a certain lifestyle and way of thinking. A wide range of different graphics and the clear-cut visual identity split this mark from other American independent companies: pair your
Life's a Beach tee
with a
snapback
and some sleek cargo pants to stay cozy and stylish while you're chilling on the sofa or enjoy changing details and colors to create the perfect Saturday-evening outfit to hang out with the crew. Graffitishop takes the west coast feelings to another level - ready to rule the hood?
Can't find what you're looking for?
Try a search in our catalog